google.com, pub-8807793439541123, DIRECT, f08c47fec0942fa0
Egg Bhajiya/Pakoda Recipe
Ingredients:

Egg – 5 ( Boiled Eggs)
Besan/Gram flour – 1 cup
Red chilli powder – ¼ tsp
Garam masala – ¼ tsp
Chaat Masala – ½ tsp
Turmeric powder – 1 pinch
Baking Soda – 1 pinch
Asafoetida – 1 pinch
Ginger garlic paste – 1 tsp
Coriander Leaves – 1 Tbsp (Finely chopped, optional)
Water – 2/3 cup
Oil – for frying
Pepper powder – 1/2 tsp
Salt
(Note: 1 Cup = 250 ml)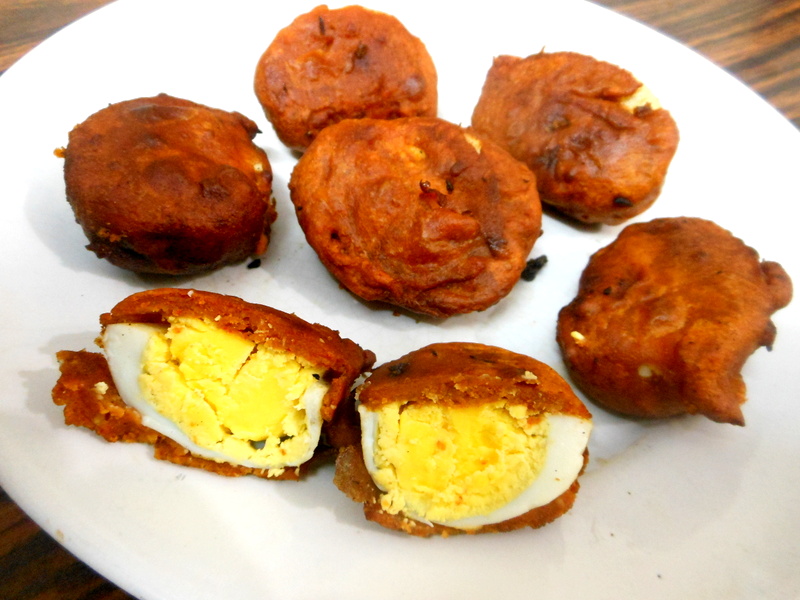 Method:
Cut boiled eggs into two halves and sprinkle some pepper powder and salt on it.
In a bowl take the gram flour and add all spice powders and mix well
To it add ginger garlic paste, chopped coriander leaves, one pinch of baking soda and salt.
google.com, pub-8807793439541123, DIRECT, f08c47fec0942fa0
Add water ½ at a time and mix well to a thick and smooth mixture. (Vary the quantity of water required)
Heat oil in a pan and dip each eggs in the besan mixture and fry until its golden brown in color
Drain the excess oil in a paper towel. Serve hot with Tomato Sauce.
Also check out below recipes:
google.com, pub-8807793439541123, DIRECT, f08c47fec0942fa0
Related posts: