google.com, pub-8807793439541123, DIRECT, f08c47fec0942fa0
Tandoori Roti Recipe
Ingredients:
Wheat Flour – 2 cup
Baking Soda – ¼ tsp
Oil – 2 Tbsp
Curd – ¼ Cup
Water
Salt
Melted Butter
(Note: 1 Cup = 250ml)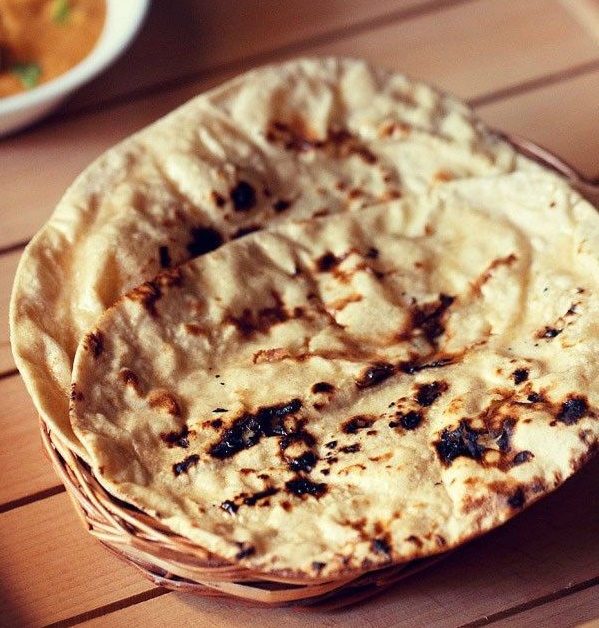 Method: (With Step-by-Step pics)

Take wheat flour, salt and baking soda in a bowl and mix well

Add oil and curd and mix well
Add little water at a time so that the dough gets combined well (I used about about ¼ cup). Add little oil on the top and knead to smooth dough. Cover it and allow it to rest for 15 mins

Dough is ready

Take a small portion of it and dust it well in wheat flour

google.com, pub-8807793439541123, DIRECT, f08c47fec0942fa0
Roll it to a medium sized circular shape (Make the thickness slightly thicker than chapatti)

Heat a pan and sprinkle little water on it. Place the roti on it (Reduce the flame to medium level)
Allow it to cook. You will see bubbles appearing on the top.

Reduce the flame to low level and flip the roti and place it directly above flame. (If you wish you can use a wire rack to place the roti above flame). Slowly move roti so that it gets evenly cooked and gets slightly charred on top
Remove it from fire and generously apply melted butter on top. Serve hot!!!!!!
Also Check out below recipes:
google.com, pub-8807793439541123, DIRECT, f08c47fec0942fa0
Related posts: