google.com, pub-8807793439541123, DIRECT, f08c47fec0942fa0
Creamy Fish Curry Recipe
Ingredients:
Fish – 250g (Skin off and bones removed)
Onion – 1
Ginger garlic paste – 1 tsp
Butter – 2 Tbsp
All purpose flour/Maida – 1 ½ Tbsp
Pepper – ½ tsp
Water – 1 Cup
Milk – ¾ Cup
Oil – 3-4 Tbsp
Roasted nuts – to garnish
To Marinate:
Chilli powder – ½ tsp
Ginger garlic paste – 1 tsp
Lemon juice – ½ tsp
Salt
(Note: 1 Cup = 250 ml
Vary the amount of chilli as per your spice level)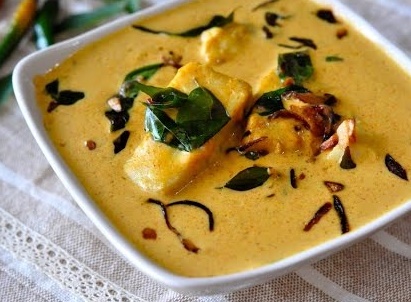 Method: (With Step-by-step pics)

Cut fish into 2 inch long pieces

Mix all the ingredients to marinate. Add fish into it, mix well so that fish pieces are coated with the masala, cover it and keep it in the fridge for an hour
Heat oil in a nonstick pan and roast the fish in a medium heat

Remove it from stove when its golden brown in color.

To the same pan add sliced onion and sauté until its golden brown in color. Add ginger garlic paste and sauté for another min and remove it from stove

Take a deep pan and add butter

google.com, pub-8807793439541123, DIRECT, f08c47fec0942fa0
Once its melted add flour

Keep on stirring so that no lumps are there

Add water and mix well

Now add milk

Keep stirring

Add the roasted fish and onion mixture and gently mix

Check for salt and add if required. Allow it to heat up and when it just starts to boil switch off the stove

Add few roasted nuts on the top to garnish. Serve hot and enjoy!!!!
Also check out below recipes:
google.com, pub-8807793439541123, DIRECT, f08c47fec0942fa0
Related posts: