google.com, pub-8807793439541123, DIRECT, f08c47fec0942fa0
Bhatura Recipe
Ingredients:
Maida – 1.5 cups
Baking Soda – ¼ tsp
Rava/semolina – 3 Tbsp
Sugar – 1 tsp
Oil – 2-3 Tbsp
Curd – ½ Cup
Water
Salt
Oil for frying
(Note: 1 Cup = 250ml)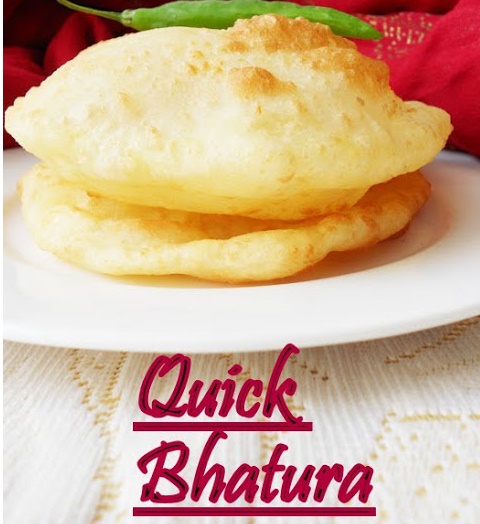 Method: (With Step-by-Step pics)

Take maida, rava, sugar, salt and baking soda in a bowl and mix well

Add 2 Tbsp of oil and curd and mix

Add little water at a time so that the dough gets combined well and comes together. Add little oil on the top and knead to smooth dough. Cover it and allow it to rest for min 2 hrs (You can increase the time also. The more the better)

Now the dough is ready.

google.com, pub-8807793439541123, DIRECT, f08c47fec0942fa0
Take a small portion of it and make it into balls

Apply little oil and roll it to a medium sized circular shape (Do not use dough for dusting. Apply oil if required again)

Heat oil in a pan and when oil is heated well, drop the rolled dough into it. Bhatura starts to puff up. You can gently press with the middle of bhatura with back of a spoon so that it puffs up well.

Now turn over and fry the other side. Remove it from oil and serve hot!!!!!
Also check out below recipes:
google.com, pub-8807793439541123, DIRECT, f08c47fec0942fa0
Related posts: