google.com, pub-8807793439541123, DIRECT, f08c47fec0942fa0
Pepper Chicken Curry
Ingredients:
Chicken – 500g (cut into medium pieces)
Onion – 1 big
Tomato – 2 medium
Ginger garlic paste – 2 tsp
Cardamom pods – 2
Kashmiri/Mild chilli powder – ½ tsp
Pepper powder – ½ tsp
Turmeric powder – ¼ tsp
Coriander powder – 2 tsp
Garam masala – 1 tsp
Fennel powder – ½ tsp
Curry leaves – few
Oil – 5 tbsp
Salt
To Marinate
Pepper powder – 1 ½ tsp (freshly grounded)
Coriander powder – 2 tsp
Turmeric powder – ½ tsp
Ginger garlic paste – 2 tsp
Salt
(Note: Vary the amount of pepper and chilli as per your spice level
1 Cup = 250 ml)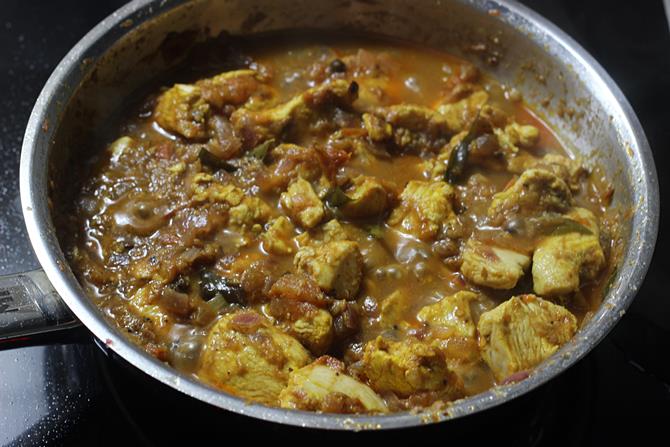 Method: (With Step-by-step pics)

Cut chicken into medium sized pieces. Add all ingredients to marinate and mix well. Add half cup of water and sliced onion.

Pressure cook the marinated chicken. (Go for 1 whistle and immediately remove the cooker from the stove.)

google.com, pub-8807793439541123, DIRECT, f08c47fec0942fa0
Heat oil in a pan add sliced tomato, cardamom pods and sauté till it becomes soft.

Add ginger garlic paste and sauté for a minute. Add all spice powders and sauté till oil starts appearing on the sides of the pan.

To the pan add the cooked chicken and curry leaves. Do a taste test and add salt if required. (Add water if required to vary the consistency of gravy). Cook with the pan covered in medium flame for 8- 10 mins till gravy becomes thick.

Pout 1 Tbsp of oil on the top. Make the curry 3-4 hrs before serving. It takes some time for the flavors to settle. Serve and Enjoy!!!!
Also check out the below recipes:
google.com, pub-8807793439541123, DIRECT, f08c47fec0942fa0
Related posts: