google.com, pub-8807793439541123, DIRECT, f08c47fec0942fa0
Mutton Pepper Roast
Ingredients:
Mutton – 250g (cut into medium pieces)
Onion – 1
Capsicum – ½ of a Capsicum
Ginger garlic paste – ½ tsp
Kashmiri/Mild chilli powder – ½ tsp
Garam masala – ½ tsp
Soya Sauce – 1 tsp
Oil
Salt
To Marinate
Turmeric powder – ¼ tsp
Coriander powder – 2 tsp
Pepper powder – 1 ½ tsp (freshly grounded)
Ginger garlic paste – 1 tsp
Salt
(Note: Vary the amount of pepper as per your spice level)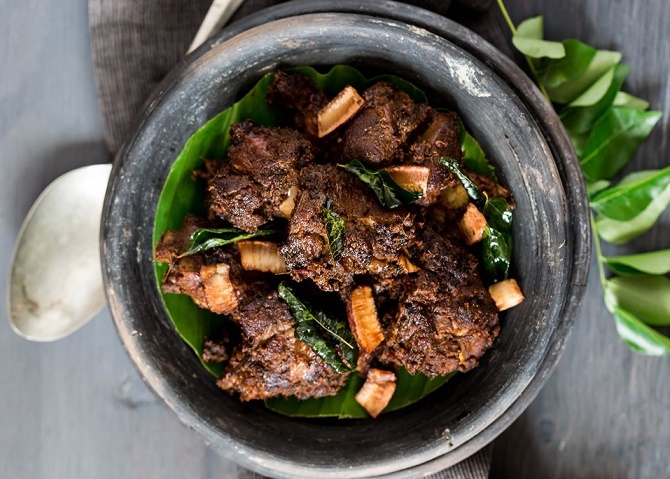 Method: (With Step-by-step pics)

Wash and clean mutton and cut it to small pieces

Add all ingredients to marinate and mix well. Pressure cook it till mutton is cooked.(I usually go for 3-4 whistles)

Heat oil in a pan and add sliced onion.

google.com, pub-8807793439541123, DIRECT, f08c47fec0942fa0
Once onion becomes soft add thinly sliced capsicum and sauté until its cooked well

Add ginger garlic paste and all spice powders and sauté for a min or two

Add cooked mutton (all contents of cooker), soya sauce and salt and mix well.

Slowly stock starts to dry up.

Cook in medium flame by stirring in between till mutton is dry and becomes brown in color. Add 1 tsp of oil on top and switch off stove. Serve hot!!!!
Also check out below recipes:
google.com, pub-8807793439541123, DIRECT, f08c47fec0942fa0
Related posts: