google.com, pub-8807793439541123, DIRECT, f08c47fec0942fa0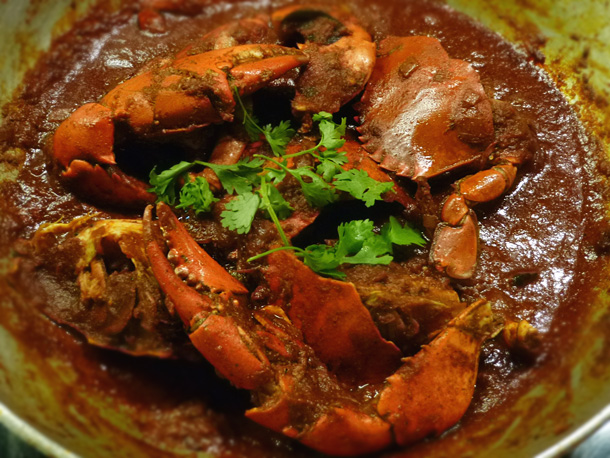 Crab Masala Recipe
Ingredients:
Crab cleaned – 500g
Fennel Seeds – ½ tsp
Onion – 1 big
Tomato – 1
Ginger garlic paste – 3 tsp
Kashmiri Chilli Powder – 2 tsp
Turmeric powder – ½ tsp
Coriander powder – 1 tsp
Garam Masala – ½ tsp
Water – 1 ¼ cup
Coconut Milk – ½ Cup
Curry leaves – few
Oil
Salt
(Note: 1 Cup = 250 ml
Don't substitute Kashmiri chilli with Red chilli powder. Kashmiri chilli is very less spicy and it helps to thicken the gravy and gives a good color for the curry)
Method: (With Step-by-Step Pics)

Clean Crab and keep it ready
Heat oil in a pan and splutter fennel seeds.
Add sliced onion and curry leaves. Cook with the pan covered and stir in between till onion turns golden brown in color.
Add chopped tomato and saute till it becomes soft.
Add ginger garlic paste and sauté for a min or two.
google.com, pub-8807793439541123, DIRECT, f08c47fec0942fa0
Add all spice powders, salt and saute for 4-5 mins or till oil starts appearing on the sides of pan
Add water and bring it to boil.
Add cleaned crab and mix well.
Cook with the pan covered in low-medium heat till crab is cooked. U will notice the shell of crab starts to become red in color.
Add coconut milk and cook till gravy thickens
Pour 3 tsp of oil/ghee over the curry prepared. Keep the pan closed for some time and serve hot.
google.com, pub-8807793439541123, DIRECT, f08c47fec0942fa0
Related posts: