google.com, pub-8807793439541123, DIRECT, f08c47fec0942fa0
Stuffed Cheese Aloo Balls Recipe
Ingredients:
Boiled Potato – 2 Medium
Bread – 1 slice
Ginger garlic paste – ½ tsp
Pepper powder – ½ tsp
Chilli powder – ¼ tsp
Coriander leaves chopped – 1 tsp
Grated Mozzarella cheese – 2 Tbsp
Mozzarella cheese pieces – 10-12 pieces
Milk – ½ cup
Bread crumbs – 1 cup
Oil – for frying
Salt
(Note: 1 Cup = 250 ml
Vary the amount of chilli as per your spice level)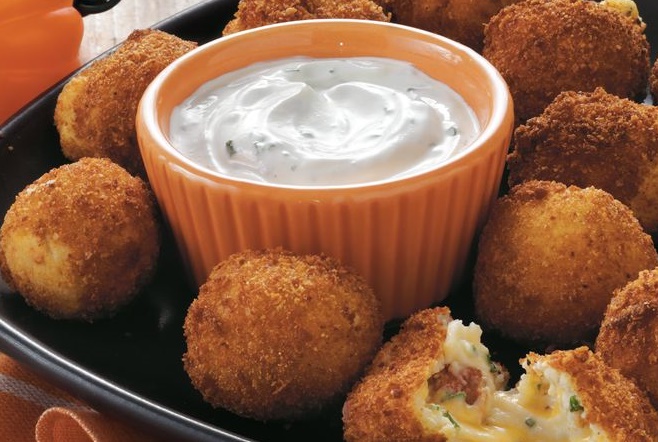 Method: (With Step-by-step pics)
Boil the potatoes and keep it ready. (Once u boil the potato remove it from the water used for boiling and allow potatoes to cool and becomes dry. This helps to make mixture tight and won't stick much.

Mash the boiled potato, add crumbled bread, ginger garlic paste, pepper, chili powder, chopped coriander leaves and grated cheese

Mix so that everything gets combined

Keep the small pieces of cheese ready

google.com, pub-8807793439541123, DIRECT, f08c47fec0942fa0
Take small portion of aloo mixture and place a piece of cheese in the center
Now roll into smooth ball

Now dip the balls in milk and roll in bread crumbs

All rolled and ready for frying

Fry in oil until golden brown

Serve hot and Enjoy!!!!!
google.com, pub-8807793439541123, DIRECT, f08c47fec0942fa0
Related posts: