google.com, pub-8807793439541123, DIRECT, f08c47fec0942fa0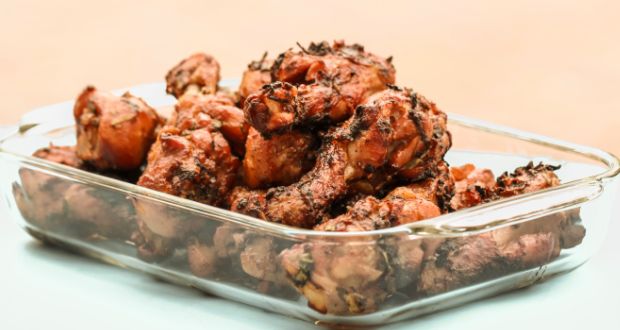 Pepper Chicken Dry Recipe
Ingredients:
Chicken – 500g (Boneless)
Fennel Seeds – ½ tsp
Onion – 1 (medium size)
Kashmiri Chilli Powder – ½ tsp
Turmeric powder – ¼ tsp
Ginger garlic paste – 1 tsp
Lemon Juice – ½ tsp
Curry leaves
Oil – 5 Tbsp and for frying
Salt
To Marinate:
Corn flour – 2 Tbsp
Pepper powder – 2 ½ tsp
Kashmiri chilli powder – ½ tsp
Turmeric powder – ¼ tsp
Ginger garlic paste – 2 tsp
Lemon juice – 1 Tbsp
Salt
(Note: vary the amount of pepper powder as per your spice level)
Method:
Wash the boneless chicken and cut into 1 inch cubes
Take all ingredients to marinate
Mix it well with the chicken pieces (sprinkle little water only if required) and keep it in the fridge for half an hour.
Heat oil in a nonstick pan and roast the chicken pieces
Roast until its light brown in color on both sides.
Keep it aside
Heat oil in a pan and splutter fennel seeds
google.com, pub-8807793439541123, DIRECT, f08c47fec0942fa0
Add sliced onion and curry leaves
Sauté till it becomes soft
Add ginger garlic paste, kashmiri chilli powder, turmeric powder and lemon juice.
Sauté for a min or two
Add roasted chicken
Mix well and sauté for 4-5 min till everything is well combined. Put a handful of curry leaves on the top. Serve hot

Pepper Chicken Dry (Starter Recipe)
Ingredients
Chicken – 500g (Boneless)
Fennel Seeds – ½ tsp
Onion – 1 (medium size)
Kashmiri Chilli Powder – ½ tsp
Turmeric powder – ¼ tsp
Ginger garlic paste – 1 tsp
Lemon Juice – ½ tsp
Curry leaves
Oil – 5 Tbsp and for frying
Salt
To Marinate:
Corn flour – 2 Tbsp
Pepper powder – 2 ½ tsp
Kashmiri chilli powder – ½ tsp
Turmeric powder – ¼ tsp
Ginger garlic paste – 2 tsp
Lemon juice – 1 Tbsp
Salt
Instructions
Wash the boneless chicken and cut into 1 inch cubes
Take all ingredients to marinate
Mix it well with the chicken pieces (sprinkle little water only if required) and keep it in the fridge for half an hour.
Heat oil in a nonstick pan and roast the chicken until its light brown in color.
Heat oil in a pan and splutter fennel seeds
Add sliced onion, curry leaves and sauté till it becomes soft
Add ginger garlic paste, kashmiri chilli powder, turmeric powder and lemon juice and sauté for a min or two
Add roasted chicken and mix well and sauté for 4-5 min till everything is well combined. Serve hot
google.com, pub-8807793439541123, DIRECT, f08c47fec0942fa0
Related posts: