google.com, pub-8807793439541123, DIRECT, f08c47fec0942fa0

Aloo Gosht
Ingredients:
Mutton – 500g (cut into medium pieces)
Tomato – 1
Potato – 2 (cubed & boiled)
Onion – 1 big
Green chilli – 2-3
Ginger garlic paste – 2 tsp
Kashmiri/Mild chilli powder – 1 tsp
Turmeric powder – ½ tsp
Coriander powder – 2 tsp
Garam masala – 1 tsp
Curry leaves – few
Coriander leaves – to garnish
Oil
Salt
To Marinate
Red chilli powder – 1 tsp
Turmeric powder – ½ tsp
Coriander powder – 2 tsp
Pepper powder – 1 tsp
Ginger garlic paste – 1 tsp
Lemon juice – 1 tsp
Salt
(Note: Vary the amount of chilli as per your spice level)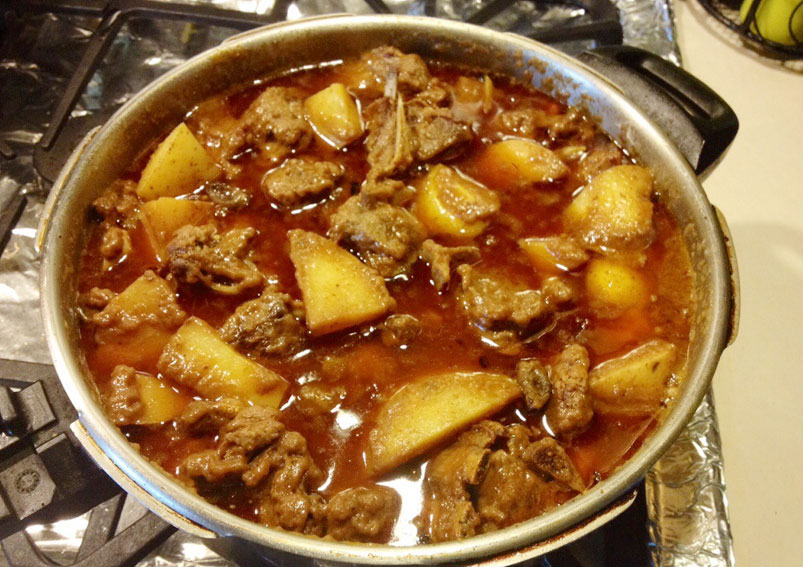 Method: (With Step-by-Step pics)


In a pressure cooker take mutton pieces and chopped tomato. Add all ingredients to marinate and mix well.

Pressure cook the same. ( I go for 3 whistles, wait for the steam to drop down completely and open the cooker)

Heat the pan in the lowest flame and dry roast the spice powders for a min and keep it aside (make sure the flame is lowest, else spice may get burned. Doing this step gives a good color to your curry)

Now add oil in a pan and add sliced onion

google.com, pub-8807793439541123, DIRECT, f08c47fec0942fa0
Cook with the pan covered and stir in between till onion turns brown in color

Add ginger garlic paste, green chilli, curry leaves and saute for a min or two

Add the dry roasted spice powder and sauté for 2-3 mins

Add cooked mutton and mix well

Add boiled potato and mix

Cover and cook in medium flame for 6-8 mins. Pour 3 tsp of oil on the top of curry prepared. Serve hot!!!!!
Also check out Mutton Roast & Mutton Masala
google.com, pub-8807793439541123, DIRECT, f08c47fec0942fa0
Related posts: