google.com, pub-8807793439541123, DIRECT, f08c47fec0942fa0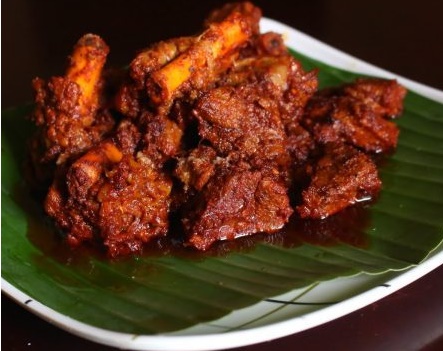 Mutton Ghee Roast Recipe
Ingredients:
Mutton – 1 kg
Ginger Garlic paste – 3 tsp
Turmeric powder – ½ tsp
Kashmiri chilli powder – 2 tsp
Curry leaves
Ghee – 6 Tbsp
Salt
To Grind:
Dry red chilli – 6-8
Coriander seeds – 2 Tbsp
Fennel seeds – 1 tsp
Cumin seeds – 1 tsp
Cardamom – 3
Cloves – 3
Cinnamon – a small piece
Whole pepper – 1 Tbsp
Ginger – 1 inch piece
Garlic – 4
Onion – 1
Lemon juice – 1 Tbsp
(Note: Vary the amount of chilli as per your spice level)
Method: (With Step-by-step pics)

Wash mutton and cut into small pieces. Heat 3 Tbsp of ghee in a cooker and add ginger garlic paste and sauté for few seconds

Add turmeric powder, kashmiri chilli and sauté for a min or two

Add mutton pieces and salt. (No need to add any water while cooking)

Mix well and pressure cook mutton until its cooked well (I usually go for 3-4 whistles. After that switch off the stove. Wait for the steam to drop completely and open the stove)

Mutton is cooked well. (Even though we have not added water, water will ooze out of mutton and stock will be there)
google.com, pub-8807793439541123, DIRECT, f08c47fec0942fa0

Heat a pan and dry roast the whole spices. Allow it to cool down and grind into good paste along with ginger, garlic , onion and lemon juice. Now heat a pan and add the remaining ghee and add this masala paste and sauté till oil appears on the side of pan. Add little mutton stock from the cooker if masala is becoming dry

Now add the cooked mutton and mix well

Without putting the lid continue cooking in medium flame. You will notice the stock starts to dry up. Do a taste test and add salt if required.

Continue cooking until curry is completely dry. Put a handful of curry leaves on top. Serve hot and Enjoy!!!!!
Also check out below recipes:
google.com, pub-8807793439541123, DIRECT, f08c47fec0942fa0
Related posts: