google.com, pub-8807793439541123, DIRECT, f08c47fec0942fa0
4 Mins Microwave Mysore Pak Recipe
Ingredients:
Beasn – ½ cup
Icing Sugar – 1 cup
Melted Ghee – ½ cup
Milk – 2 ½ tsp
Cardamom powder – ¼ tsp
(Note: 1 Cup = 250 ml)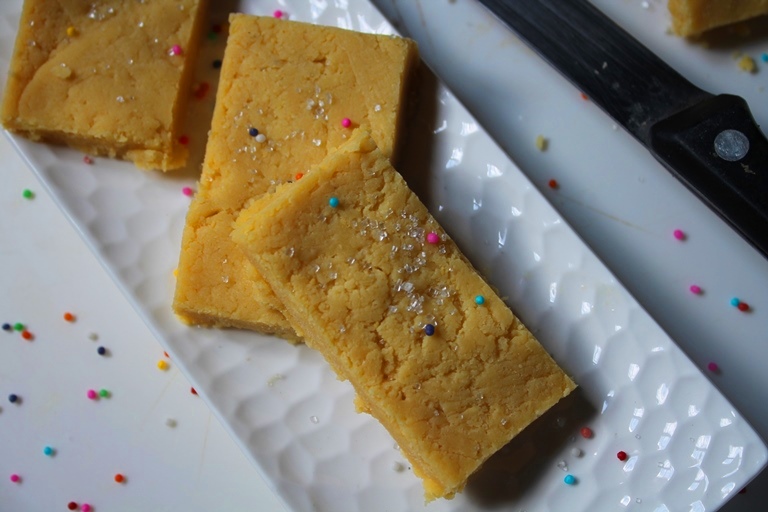 Method: (With Step-by-step pics)

Grease a plate with ghee and keep it ready

In a microwave safe bowl take besan and add cardamom powder

Add 1 Tbsp of ghee into it

Mix well.
Microwave in high power for 1 min

Mix well and keep it aside

Take melted ghee in same bowl and add icing sugar. Mix well

Add milk and mix and mix well

google.com, pub-8807793439541123, DIRECT, f08c47fec0942fa0
Add roasted besan and mix well. Make sure no lumps are there

Microwave in high power for 1 min. Take it out and mix well

Microwave again for another 1 min. The mixture will bubble up.

Mix well and microwave for another 30 sec and its ready

Transfer the same to the greased plate

Level it with the help of back of spoon

Slice into pieces.

Allow it to cool down fully and separate into pieces. Serve and enjoy!!!!
Also check out below recipes:
google.com, pub-8807793439541123, DIRECT, f08c47fec0942fa0
Related posts: