google.com, pub-8807793439541123, DIRECT, f08c47fec0942fa0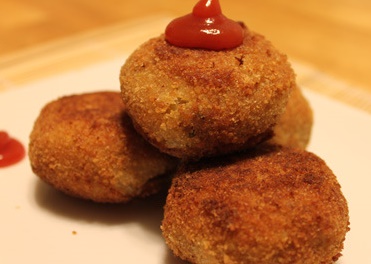 Chicken Cutlet Recipe
Ingredients: (Makes – 10 chicken cutlet)
Chicken – 1 cup (minced, refer notes)
Oil – 4 Tbsp
Onion – ¾ cup (finely chopped)
Red chilli powder – 1 tsp
Turmeric powder – ¼ tsp
Coriander powder – 2 tsp
Ginger garlic paste – 3 tsp
Garam masala – 1 tsp
Potato – 2 medium sized
Egg – 1
Bread Crumbs – ½ cup
Oil for frying
Salt
( Note: I used chicken with bones. Take the chicken pieces in a pressure cooker along with ¼ cup water, ½ tsp pepper powder, 1 tsp ginger garlic paste and go for 1 whistle and immediately remove cooker from stove. Once steam goes completely open cooker and remove the bones from chicken pieces and mince chicken with your hands.
Vary the amount of chilli powder as per your spice level
1 Cup = 250 ml)
Method: (With Step-by-Step Pictures)
Finely chop onion and keep it ready. Boil the potato, mash it and keep it ready. Cook the chicken and mince as per the notes above.
Heat oil in a pan and add chopped onion. Saute it till it becomes soft
Add ginger garlic paste and sauté for a min

Add all spice powder and sauté for a min or two

Add minced chicken and sauté for 6-8 min or until its dry. Remove from fire and allow it to cool.

Add mashed potato and mix well.
google.com, pub-8807793439541123, DIRECT, f08c47fec0942fa0

The mixture should be tight and such that you should be able to make it into oval shapes.
Dip it in beaten egg.

Roll in bread crumbs

Deep fry in oil until it turns brown in color (The cutlets should be immersed in oil when frying)

Remove the excess oil in paper towel and Serve hot
Also check out Fish cutlet & Fish Finger
google.com, pub-8807793439541123, DIRECT, f08c47fec0942fa0
Related posts: