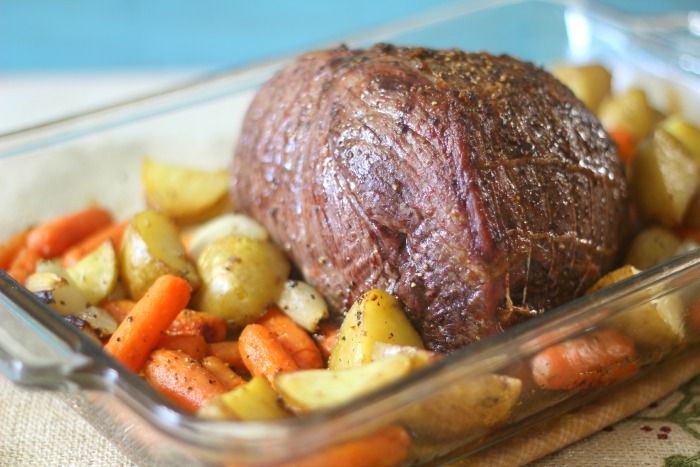 Beef Potato Roast Recipe
Ingredients:
Beef – 500g
Potato – 2 Medium
Oil – 4 Tbsp
Fennel seeds – ½ tsp
Onion – 1
Green chilli – 2
Ginger garlic paste – 3 tsp
Chilli powder – 1 tsp
Coriander Powder – 2 tsp
Garam masala – 1 tsp
Curry leaves – few
To Marinate
Kashmiri chilli powder – 1 tsp
Pepper powder – ½ tsp
Coriander powder – 3 tsp
Turmeric powder – ½ tsp
Ginger garlic paste – 2 tsp
Vinegar – 1 tsp
Salt
(Note: Vary the amount of chilli as per your spice level)
Method: (With Step-by-Step Pictures)

Wash beef well and cut it into small pieces.
Take all the ingredients to marinate
Mix well
Pressure cook marinated beef till beef is cooked well. (No need to add water when cooking. I usually go for 4-5 whistle and then switch of the stove. Wait for the steam to go completely and then open the cooker)
Once beef is cooked, remove the cooked beef pieces only leaving the stock in cooker.
Cut potato into cubes.
Add the cubed potato in to the cooker with stock. Add water if required and cook it.
Go for 1 whistle and immediately remove cooker from stove. The potato should not be over cooked
Heat oil in a pan and splutter fennel seeds
Add sliced onion
Sauté till it becomes soft.
Add green chilli, ginger garlic paste and sauté for a min or two.
Add all spice powders and sauté for a min or two.
Add cooked beef.
Mix well
Add cooked potatoes
Mix well.
Cook in medium flame for 8 to 10 min stirring in between or till beef turns into good brown color and is completely dry. Serve hot.

Also check out Beef Fry & Beef Thoran


Beef Potato Roast (Kerala Style)
Ingredients
Beef – 500g
Potato – 2 Medium
Oil – 4 Tbsp
Fennel seeds – ½ tsp
Onion – 1
Ginger garlic paste – 3 tsp
Chilli powder – 1 tsp
Coriander Powder – 2 tsp
Garam masala – 1 tsp
Curry leaves – few
To Marinate
Kashmiri chilli powder – 1 tsp
Pepper powder – ½ tsp
Coriander powder – 3 tsp
Turmeric powder – ½ tsp
Ginger garlic paste – 2 tsp
Vinegar – 1 tsp
Salt
Instructions
Wash beef well and cut it into small pieces.
Take all the ingredients to marinate and mix well it with beef pieces
Pressure cook marinated beef till beef is cooked well. (No need to add water when cooking. I usually go for 4-5 whistle and then switch of the stove. Wait for the steam to go completely and then open the cooker)
Once beef is cooked, remove the cooked beef pieces only leaving the stock in cooker.
Cut potato into cubes.
Add the cubed potato in to the cooker with stock. Add water if required and pressure cook it. (Go for 1 whistle and immediately remove cooker from stove. The potato should not be over cooked)
Heat oil in a pan and splutter fennel seeds
Add sliced onion and sauté till it becomes soft.
Add green chilli, ginger garlic paste and sauté for a min or two.
Add all spice powders and sauté for a min or two.
Add cooked beef and mix well
Add cooked potato and mix well.
Cook in medium flame for 8 to 10 min or till beef turns into good brown color and is completely dry. Serve hot
Related posts:
Tagged: beef potatao roast kerala style, beef potato nadan style, easy beef potato curry kerala style, kerala beef recipes